Wednesday 13 January, 2021 |

---
The Ultimate Wedding Hair Styles Of 2021(Worth Reading)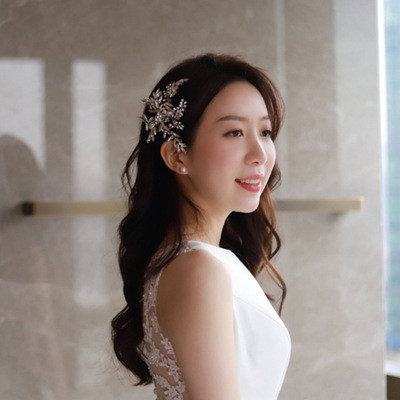 Choosing the right wedding hairstyle is very important and there are a number of considerations to make. The main consideration is the length of your hair as this will affect the number of options available for styling hair for brides.
When choosing your bridal hairdo, the most important consideration is to find one that will suit your facial features and preferably your wedding gown too.
How to know which bridal hairstyle to choose

1. A very easy way of getting ideas is to flip through bridal magazines or browse through bridal websites. Current bridal magazines will display the latest trends of bridal hairstyles and usually, they are modeled with certain wedding gowns. Take note of the types of hairstyles that usually go with the type of wedding gown you have chosen.
For example, if you have a bustier gown, you can see what types of hairstyles are usually styled for that type of gown. You can also zoom in on the hairstyles that are suitable for your own hair length too.
2. Cut out some of these pictures for reference if you like, as they may come in useful when you meet your stylist for a hairstyle consultation.
3.A point to bear in mind though, some hairstyles look great on a magazine model but it may not be the best choice for you!
4.Do keep your options open and seek professional advice from your bridal stylist before making a decision. They know best after all, who else can we trust other than someone who does the same job every day?
Types of bridal hairstyles
Hair up or Hair Down?
Try to select a hairstyle that suits your face shape - for example, round faces tend to suit high "updo's" and sleek long styles while those with long faces suit hairstyles that have more width and volume.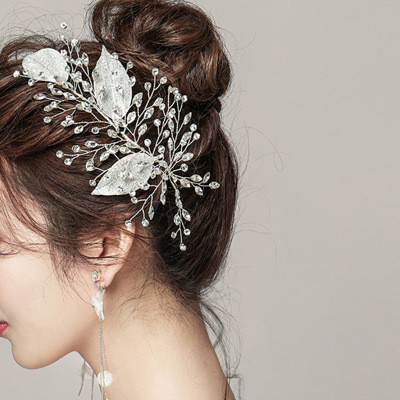 Would you be comfortable with all of your hair swept away from your face?
You need to consider having some hair both up and down or just leaving some wispy bits around your face to soften the look. If you have an off-the-shoulder or low cut dress will you feel comfortable with some flesh exposed?
Straight or Curly
Once you have made a decision to wear your hair up or down, your possibilities are endless. Curls are romantic and soft, as are twists, pleats, plaits, and variations to the bun.
Or maybe you prefer more contemporary twists and spikes. Try to reflect your own personality in your bridal hairdo, but don't be a fashion victim.
Wedding tiara's and Veils
These need to compliment your bridal hairstyle but not hide it. If you have chosen a large floor-length veil, your hairstyle needs to be strong enough to hold its shape until you take the veil off.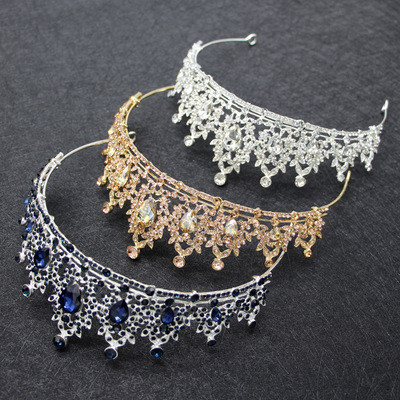 Some veils look a lot better sat at the rear of your head under a bun or a mass of curls. As a general rule, the hair shouldn't be worn longer than the veil.
Jewels, beads, and flowers
These are very popular as they add some sparkle and color and can match in with your color scheme and jewelry. bridal hair pins and hairgrips with sparkling gems create a stunning effect, whilst small flowers can be scattered amongst the curls or wired to hidden bridal hair combs to flatter a French pleat.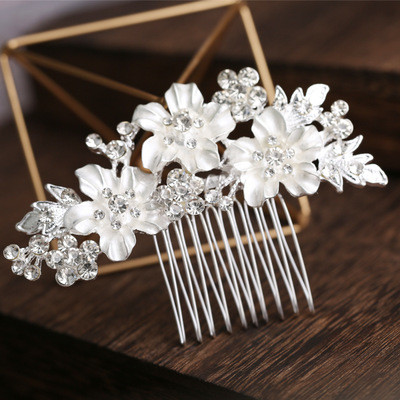 A trial run
Always have a hairstyle trial well in advance of your wedding. Your hair may need to grow longer for your desired style, so you can always have another trial nearer to your wedding day.
Pre-wedding hair advice
Trim your hair about one to two weeks before your wedding. Even if you are keeping it long, trimming will keep the ends tidy and is easier to style. If you need to dye your hair and you are trying out a new color, it is also advisable to do it in advance, never the day before!
At least if it turns out disastrous, you still have some time to save yourself. On the day of your wedding, wear a button-up shirt so that you can change easily into your gown after your hair is styled.
Conclusion; Your bridal hairdo should be one that compliments your facial shape, wedding gown, wedding theme, and makeup. Every bride deserves to be the most beautiful on their BIG day and that goes for you too!
---
by Administrator
---
---
---
---
News for Tuesday 12 January, 2021
---
View all news for Tuesday 12 January, 2021 on one page
---
---
---
Recent News
---
---
---