Tuesday 20 October, 2020 |
---
List of Bridesmaid Gift Ideas Will Help You(Worth Collection)
by Administrator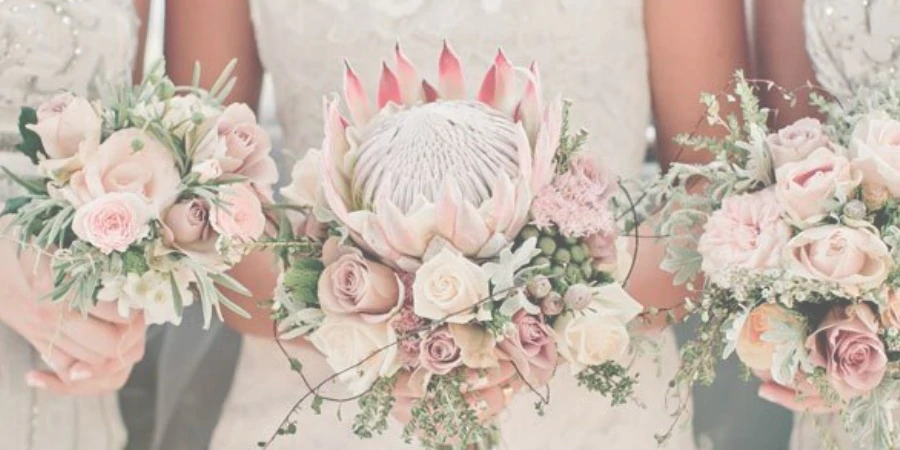 Here are some bridesmaid gift ideas guidelines that should help you in your pursuit of finding the perfect bridesmaid gifts.
What are the best bridesmaid gift ideas for the wedding day?
1)Make it personal. The most important thing to remember when getting bridesmaid gift ideas is to get something personal.
It is easy to give bridesmaids gift certificates, or cards as wedding party thank you gifts, but it is much more meaningful if you pick something out that you know they will enjoy.
If you know their favorite actor/actress has a new movie out on DVD, get it for them along with some popcorn and candy.
If they like to go to concerts, give them concert tickets to their favorite group. Personal and thoughtful gifting demonstrates to your bridesmaid that you pay attention to them and their interests.
2)Keep it simple. You do not have to worry about getting something incredibly elaborate for your bridesmaid gift. This is not your time to demonstrate that you are a natural.
Remember, this is your family and friends, and they already know that this is not the case. Jewelry makes a great bridesmaid Personalize gift.
Everyone likes to get jewelry, and it does not require you to cross-stitch pillows for each bridesmaid. A simple bracelet or a pair of earrings is a simple but elegant gift. There is no need to try to be crafty with your bridesmaid gift.
3)It does not have to be expensive. Weddings are already costly; do not let the bridesmaid gift add to your debt. An expensive bridesmaid gift is not expected from your bridesmaids.
You do not need to prove your love to your bridesmaids by getting them something that costs you a lot of money; you need to get them something that shows that you care. One idea is to get your bridesmaids some stationary.
A Stationary is not expensive but is something useful, and everyone can use it. Another idea is getting each bridesmaid their favorite flowers. This shows you care without emptying your wallet. If you are really tight on cash, you can always write them a personal thank you note.
Just remember that you do not need to buy the love of your bridesmaids with your gift.
4) Make it tasteful. This is a request from someone who has been a bridesmaid several times. The cards that say "Maybe next time it will be you, but probably not" or "You don't look good in white anyway" get old real quick. I would stay clear from a gag bridesmaid gift unless you know for sure that your bridesmaids will really appreciate it.
The bridesmaid gift ideas are part of your wedding planning, and you want them to be tasteful and appropriate to the occasion. The possible idea is to get your bridesmaids your favorite book.
This is something that is tasteful, personal but doesn't require a lot of time or money. Also, you can give them a "relaxation kit" with your favorite scented candles and bath salts. Keep things elegant; your wedding is not a time for cheesy party gifts ideas.

Here is a list of creative and thoughtful but inexpensive bridesmaid gift ideas to let your bridesmaids know how appreciative you are that they are a part of your most special day.
Jewelry bridesmaid gift ideas
Today, bridesmaids continue to show their loyalty to the bride, though the goal is to show their friendship rather than scare away little goblins. In addition to selecting the bridesmaids' gowns, choosing the right bridesmaid wedding jewelry from jewelry stores near me is also important.
When selecting your bridesmaid's sterling silver bracelets, first consider your color palette and bridesmaid gown colors. You will want to find bridesmaid bracelets that coordinate with your color scheme and bridesmaid gowns.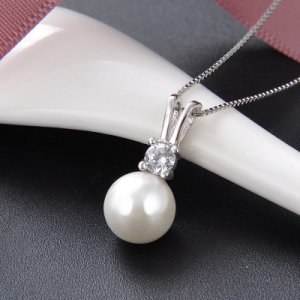 Pearl bridal necklace has been the normal choice of brides to be for hundreds of years. The sweetness, purity, and luster of pearls have always attracted brides of all ages.

The white sheen of pearl goes perfectly well with the white bridal gown. Diamond and stone necklaces became fashionable time.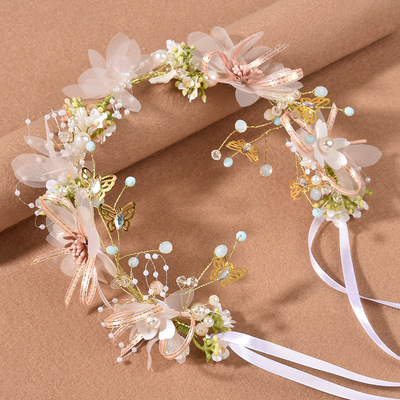 The Flower Design Wedding Bridal Hair Band
Bridesmaid hair accessories bridesmaid gift ideas
-Hair accessories come in many different styles and types. Depending on bridesmaid hair length and your chosen style, you can use hair sticks, barrettes, and clips.

Glamour girls bridesmaid gift ideas
If any of your bridesmaid gift ideas are budding beauty queens, find a cute cosmetic bag that matches the color of their dresses and fill it with plenty of fun goodies. Brushes and comb sets, hair accessories like barrettes and ponytail holders, age-appropriate make-up, and manicure supplies will delight any girl and give her everything she needs to gussy up for the big day.

Craft bag bridesmaid gift ideas
If your bridesmaid gift ideas are creative, fill a bag or basket chock full of craft supplies. Coloring books, sketch pads, canvas, crayons, magic markers, colored pencils, paint sets, pastels, and paintbrushes will surely be welcomed.
Book smarts bridesmaid gift ideas
Fill a basket with some classic books, bookmarks, night lights, and perfect gift certificates to book stores for a special gift that will let your bookworm know how much she means to you.
The sporting life bridesmaid gift ideas
If your junior bridesmaid is interested in sports, find out just what she's into and surprise her with a bag filled with appropriate accessories. A personalized gym bag filled with items like sweat socks, jogging suits, and miniature soccer balls is sure to please the athletic bridesmaid.
The great outdoors bridesmaid gift ideas
If any of the bridesmaid gift ideas in your wedding party are nature lovers, create a special gift that incorporates their love of the outdoors. Whether she's a camper, a Girl Scout, or just interested in gardening, you can fill a planter or duffle bag with things like camping supplies, gardening tools, seed packets, pots, and planters to create a fun nature-themed gift wedding.
Slumber party bridesmaid gift ideas
There's nary a young girl who doesn't love a slumber party. Create a basket filled with pajamas, slippers, hot cocoa, popcorn, games, comfy socks, or even a nice sheet set or blanket. She'll be the hit of the next slumber party, and be thankful for your thoughtfulness.
Sweet tooth bridesmaid gift ideas
Create a basket of delectable goodies that will satisfy anyone's sweet tooth. The possibilities are endless, and if you happen to know the junior bridesmaid well enough, you can always find out what their favorite candies are and build a treat basket around them.
Gift certificates bridesmaid gift
If you aren't sure what your bridesmaid's hobbies are or what they may like to do, gift cards are the best way to go. Instead of handing over a plain, boring envelope, put the gift cards in a small basket and fill it with generic items such as candy, lip gloss, pens, pencils, or notepads.

Soap and Bath Products -maybe your bridesmaids don't need to spend time at a spa, but they will always enjoy pampering themselves at their house.
Manicure and pedicure bridesmaid gifts
Treat is often an excellent idea to urge all the women together before or after your day. They're also going to enjoy this pampering gift while making the foremost of the standard time and opportunity you've provided them.
Spa gift certificates -if you think they're going to, then why not give them spa gift certificates, leading them to travel to a pleasant, relaxing spa. Encourage your bridesmaids to use their certificate on the day before your best wedding parties to start an exquisite preparation.

Photo album bridesmaid gifts
-Either you'll leave these empty or add a couple of photos of your bridesmaids; they still make great bridal gifts personalized for them. Just confirm that if you see some photographs in each album, you'll save empty pages for the women to fill their favorite pictures in.
Picture frames are another popular choice, making sentimental bridal party gifts for your bridesmaids when engraved. You'll leave the frames empty or insert a pleasant photo of every one of your bridesmaids within the picture frames.
Bags of Goodies are often crammed with anything that the women will appreciate, like lotion and perfume, soap and bath products, shirts, cosmetic supplies, edible treats like chocolates, etc.


Personalized Bridesmaid Gift Picture Frame: Remember the good times with your good friends - forever - in a stylish and beautiful picture frame. Unlike other picture frames, a personalized frame allows you to add a personal and memorable touch. Once you place your favorite photograph featuring your bridesmaids, you can have the frame inscribed with their names or a memorable or important phrase to your friendship. Additionally, a personalized bridesmaid gift picture frame is also an affordable way to say thanks.
Organic tote bag bridesmaid gifts: What girl doesn't like to shop? With an organic, environmentally friendly carrying bag, you can be thrifty, stylish, and green at the same time. With an organic tote bag, you can actually have the initials of your bridesmaids stitched directly onto the pocket flap of the bag itself. And, if you want to create an even stronger personal touch, you can fill the tote bag with gifts, beauty items, or other goodies which you know will bring smiles to all of your bridesmaid's faces.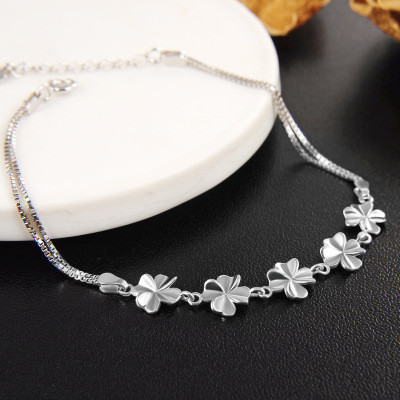 Four Leaf Cover of Friendship Bracelet: If you've been friends with your bridesmaid gift ideas since you were all little girls, then chances are you've made a friendship bracelet or two for each other over the years. So, why not give them something new by utilizing an old, tried, tested and true idea? This style bracelet is adorned with sparkling and breathtaking freshwater. However, even though they look like a million bucks, they're actually quite affordable. Plus, you can also engrave your bridesmaid's initials into each bracelet to make it truly her own.
Cowgirl Pub Saloon Sign: If your bridesmaids also happen to be party girls or cowgirls at heart, then an old-fashioned cowgirl pub saloon sign might be the ticket. A stylish and unique gift idea that looks like it came straight from the old west itself, you can have both the first and last name of your bridesmaids etched directly into the sign itself to give it that authentic "made especially specifically for her" appearance.
Personalized Cosmetic Bags. What else can make your bridesmaids beautifully ready than personalized cosmetic bags? This bridesmaid gift can be presented at your bridal shower or after your wedding day. A few personalized cosmetic bag choices such as Personalized Bridesmaid Jewelry & Cosmetic Case, Diana Bridesmaid Polka Dot Cosmetic Case, and Bridesmaid's Waffle Cosmetic Bag make great gift suggestions for your attendants.
Personalized Compact Mirrors. Compact mirrors are great keepsakes your bridesmaids will surely appreciate and enjoy. Choose engraved compact mirrors that let you put a special thought on that unique wedding gift. You may consider Engravable Bridesmaid's Compact Mirror, Kaylee Silver Round Compact Mirror, Slim Round Ladies Compact Mirror, Butterfly Compact Mirror for Bridesmaids, and Engravable Silver Heart Shaped Compact Mirror.
Personalized Spa Apparel. A bachelorette party at the spa? Let your bridesmaids feel a more sense of comfort by presenting personalized spa apparel such as towels, bathrobes, and slippers. You may consider these choices as wedding gift ideas: Personalized Luxury Spa Robe, Bridesmaid's Personalized Spa Slippers, Bridesmaid's Waffle Weave Kimono Bath Robe, Bridesmaid Waffle Weave Body Wrap, Monogram Bridesmaid Terry Cloth Slippers, and adjustable terry velour body wrap.

Girls Night Outlet, your bridesmaids enjoy an evening bar of hopping as you're all expecting that big day! This is often really a fun idea to urge bonded together with your bridesmaid and be a touch wild before you exit from your single status.
---
---
---
---
---
Other news for Tuesday 20 October, 2020
---
View all news for Tuesday 20 October, 2020 on one page
---
---
---
News for Monday 19 October, 2020
---
View all news for Monday 19 October, 2020 on one page
---
---
---
Recent News
---
---
---