Friday 16 October, 2020 |
---
Countdown Wedding checklist and Timeline For Big Day(Collection Now)
by Administrator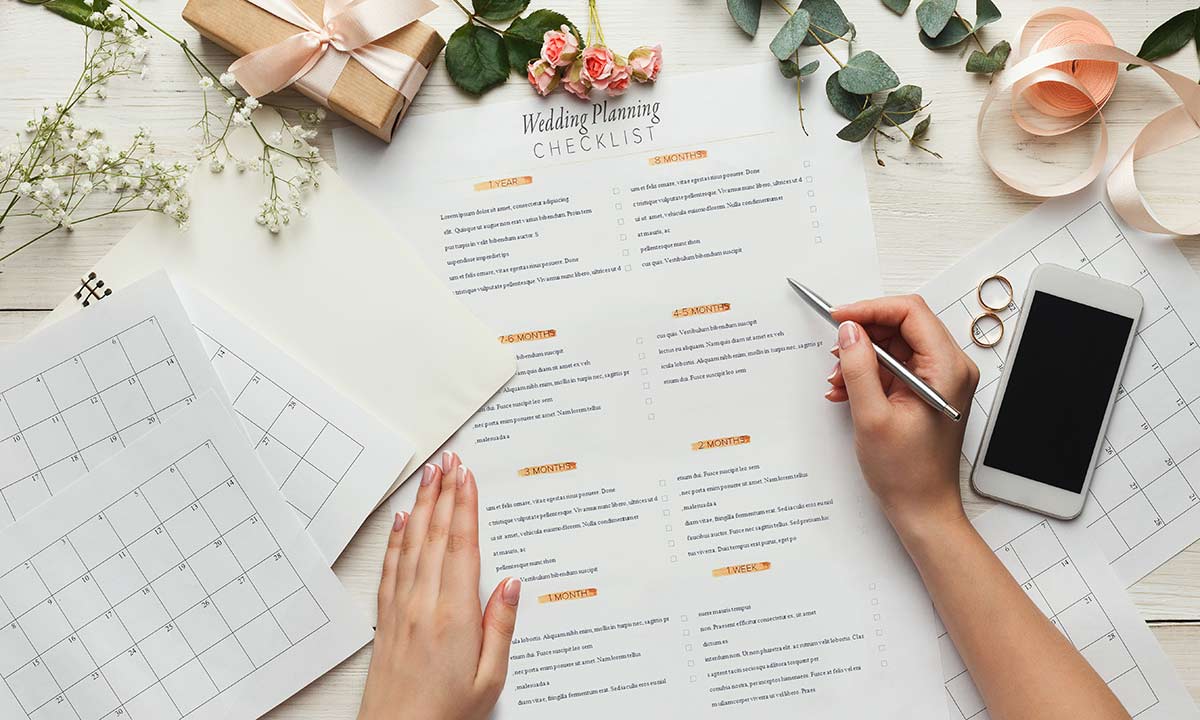 Wedding checklist and Timeline List
A reasonable wedding checklist timeline must cover each element of the wedding in sufficient detail so the bride can successfully carry out her wedding planning. Poor lists will omit essential components and features or place tasks in the wrong stage of the planning period.
Once you have your wedding day planner, you need to write down a list of everything that needs to be done. This list can include some or all of the following.
6 - 12 Months
4 Months
2 Months
1 Month Left
2 Weeks Remaining
1 Week To Go
Your Wedding Day
6 - 12 Months Before Your Wedding ____ Select a wedding date, time, and possibly a backup date
____ Announce your engagement in the paper
The wedding engagement can also be a source of stress, so it is essential to set priorities and not miss out on the fun that should accompany such a joyous occasion.
____ Plan an engagement party with family and friends
Having an engagement party is a way to officially kick off the wedding planning process, so enjoy your time as you get better acquainted with each other's families and friends.

____ Talk with a bridal consultant or wedding coordinator
Once the initial bridal consultation is over, follow up with the couple. Send a personalized thank-you note as soon as this meeting is over, while the details are still fresh in your mind. Tell them how much you enjoyed the session and reiterate your desire to work with them in planning their wedding.
____ Find out what bridal shows are on locally and attend them
A Bridal Show is a great place to start your wedding plans. Held at various venues - including convention centers, banquet halls, and even your local shopping mall -- they can be pretty significant (100 different vendors or more!) or much smaller and more intimate (only 10-20 other vendors).

____ Agree on a preliminary budget
Once you and your partner have agreed to a specific budget, you can do a few things to make sure you both stick to it. But before you both stick to it, ensure you understand and agree to it properly. This practice of budgeting for your wedding will help you manage your finances together as partners later in your married life. Stick or put your budget where you can see it easily every day, somewhere like on the refrigerator or near your bed where it is fully viewable. Make sure you and your partner have a copy of each budget. If you need to make any changes to the budget plan, make sure you consult each other first.
____ Decide who will pay for what and how will share expenses
The bride's family pays for the reception costs, including food, music, decorations, rental fees and entertainment, ceremony costs (including rental payments and decorations), the flowers for the ceremony and the reception, the bride's wedding dress, and accessories, then invitations, announcements, programs, and mailing costs, favors, photography, transportation, and their attire and travel expenses.
The groom's family pays for the rehearsal dinner, which includes the food, invitations, decorations and entertainment, attire during that day, travel expenses, and the wedding present.
The bride pays for the groom's wedding ring, the wedding gift for the groom, her hair, makeup, and beauty treatments, gifts for her attendants, and sometimes the accommodation for any out-of-town bridesmaids. The groom pays for the marriage license, the bride's engagement and wedding rings, their honeymoon, wedding gift for the bride, the bride's bouquet, the gifts for his attendants, corsages for the mothers and grandmothers, boutonnieres for men in the wedding party, fees for the Presider and sometimes the accommodation for any out-of-town groomsmen.

There are also cases where the wedding expenses are split in three ways. The bride's family, the groom's family, and the bride and groom each pay for one-third of the budget.
____ Call your church or synagogue for an appointment with the officiant
Perhaps since so many weddings are performed these days secularly, people often do not know how to interview, hire and relate to their wedding officiant. Simply put, they should be treated the same way you would a member of the professional clergy.
____ Consider and ask friends and family to serve as wedding attendants
Wedding attendants are usually close friends and family. However, if you can't narrow down your attendants, try offering some of the special people in your life to read a passage, light a candle or sing during your wedding.
____ Start your wedding guest list
Getting the number of wedding guests down to a reasonable number can be challenging. Often it will take compromises on both your part and the groom's part. Whether you are having 50 people or 500 people, it will probably be a challenge to get the list down to size.

____ Start thinking about ideas/themes for your reception and catering plans
Depending on your chosen theme, you can imagine living in another place. The most important thing is you pick something meaningful and romantic for you and your fiancé.
You can also incorporate your theme into the wedding reception venue. Use lighting effects that can complement the atmosphere you want to create. Decorate the whole venue with flower choices and colors. For instance, roses can be appropriate for a Victorian theme. The theme can extend to table centerpieces, chair decorations, and the entryway.
____ Determine what type of entertainment you want to have for your reception
Regarding the entertainment portion of your reception, it should be treated with care as with all your other very important wedding details. The entertainment seems to be one of, if not the most critical components of a reception. Sure, the food, decorations, and socialization are essential, but without entertainment, these events would take on an entirely different personality.
____ Decide the type of wedding you would like to have (size, formality, and setting)

____ Think about your color schemes
The first thing that needs to be considered in choosing a wedding color scheme is the couple's personality. Just like in any other element of the wedding, it should be the couple's decision because it will be their special day. Sure, many brides would go for pink, but some men are not comfortable with the color because it is too feminine. So the couple should sit with each other and their wedding coordinator to discuss their preferred colors.

____ Explore pre-marital counseling
Pre-marital counseling is designed to offer a preventative, educational approach to marriage. Couples are frequently referred for pre-marital counseling by the clergy, who will be officiating at their wedding. These couples usually enroll in a pre-marital counseling workshop or seminar offered through their church or synagogue.
____ Select your reception location
Your wedding reception location should not be too far from your religious ceremony if you have one. It makes life and that of your guest easier on your wedding day. You also want to ensure the venue's style fits what you are looking for on your wedding day.

____ Select your professional photographer
You may well never have hired a professional photographer before. Therefore, it can be challenging to know what questions to ask. Yet you must conduct a careful interview to find the best professional wedding photographer for your needs.

____ Select your videographer
Choosing a videographer is just similar to the case of the photographer. However, you will need to consider a lot of practical issues when you are making the decision. You will also need to spend the time to interview the videographer.

____ Select a professional caterer (if necessary)
Event organizers often use professional catering services as it helps to save an ample amount of time and effort. While availing professional services from caterers, food and drinks are served to the guests elegantly and impeccably.

____ Select Musician or Disc Jockey
Live Musicians are preferred for Wedding Ceremonies. They enhance the ambiance and emotional setting. And being human, as opposed to recorded music, they can react quickly to environmental changes.
____ Select your florist
Choosing the right florist means you will have to interview all of them before making a completely informed decision. Ask for references and make sure that they are a completely reliable business. You don't want your flowers showing up too late. You can make choosing flowers a fun day if you plan it just right. It is energizing being around so many beautiful flowers.

____ Shop together for your wedding rings
When shopping for your wedding ring, check out several different stores before buying. Then, compare selection and price at a few other stores and determine which store has the right call for you.
Because you and your fiancé both need wedding rings, stores may give you a discount if you both buy your wedding rings at the same place. But, if you and your fiancé like rings at different stores, buy your rings where you like. Beware of shops that pressure you to buy on the spot. Purchasing your wedding ring is a big deal and shouldn't be a hasty decision.
____ Select wedding dress and bridal headpiece, and set a date for fittings and delivery
Not only should the jewelry match the wedding ring, but it should also match your dress and overall style. For example, wear a pair of vintage earrings if you want a traditional wedding. Also, nothing says tradition like a silver necklace. So the idea is to look - and be - glamorous. So if you plan on wearing a modern wedding dress, you might want to go with a choker embellished in diamonds and huggie-style earrings.
____ Select your bridesmaids' dresses and accessories
Today it is customary for the bridesmaids to purchase their dresses and shoes. Since you probably intend to gift your maid of honor and bridesmaids, provide them with accessories. It is customary to give them custom jewelry that coordinates well with their gowns or dresses. Whether the jewelry is a necklace, earrings, or a bracelet, it does not have to be expensive. However, it does need to be of good quality and look good.


____ It's time to choose a honeymoon and location
It's no wonder many couples leave the honeymoon planning until the last minute. And the later you decide, the more expensive it will be. Plus, most couples don't realize the number of decisions they have to make regarding their honeymoon vacation.
Among all the other concerns in choosing your honeymoon location, this question is the most important for it will narrow down the possible places you can go.
4 Months Before The Wedding ____ Check the requirements for a marriage license
____ Reserve your wedding day rental equipment
When planning an event, you must realize the importance of looking for a party rental supplier early in the preparation phase. The best time to look for one is at least two months before the event date. For example, if it is a wedding party, the best time to do so is three months before the wedding day.

____ Decide upon a gift registry and select your gift choices
Selecting items for a wedding gift registry can be one of the planning process's most fun and exciting parts. Still, it's a good idea for couples to do a little research before selecting items online or scanning in-store products with that scanner gun. Here are three popular wedding gift registry items and how to choose products that can last as long as your life together.

____Order your invitations and related stationery needs
Today's brides can now enjoy purchasing their perfect wedding invitations online without ever having to leave home. Here are some tips to consider when ordering your wedding invitations online to ensure your printed invitations are what you had.
If you want to order stationery supplies for any reason, you can order them online. You can browse online for many different designs, colors, and themes. Some stationery is printed on recycled paper, so you can also help the environment by ordering them.
____ Start shopping for the men's wedding attire
When thinking about how to keep your wedding attire from looking like costumes, it is not only the bride that you should be concerned with love. For example, if you are having a formal morning ceremony with the men in cutaway jackets and striped trousers, you may be tempted to add the top hats and walking sticks. Resist! Even if the tuxedo rental shop offers it, that does not mean that you have to go with it. Unless you genuinely believe that your fiance and his friends can pull it off without looking goofy, please don't force them into any of these accessories.

____ Reserve your wedding day transportation
At the end of the evening, it will need more transportation. The bride and groom will need a vehicle for their grand exit. It is a fun part of a wedding when the newlyweds dash off together to their waiting car while their guests cheer and wish them well. A tip for the wedding guests: if your friends have hired an antique Bentley as their getaway vehicle, the chauffeur may not take kindly to having it decked out with "Just Married" written on the windows in soap or lipstick, so tread lightly!
____ Research and select readings for the ceremony
If you have the freedom to choose your readings, it can be both a great opportunity and a bit overwhelming. Where to begin? The idea is to have the task reflect something about you as a couple. It could be a poem you love or a passage from a book. You could choose words or a story that will tell the guests something about your relationship. If you are stumped, try looking at a book of classic love letters or romantic poems.

____ Make music selections for ceremony and reception
If you, too, plan to provide your choice of songs and musical pieces at your wedding, check the following Directory. The wedding music and song lists here are attributed to different segments of your wedding.


____ Decide upon and order favors
Picture frames are one type of wedding favor idea that the bride and groom-to-be can select for their wedding reception. There are a few reasons why picture or photo frames are an excellent option for couples. The first is that they are practical. Sometimes an individual will attend a wedding and receive a souvenir that cannot be put to good use after the wedding. Unfortunately, it is not the case with picture frames. Since most individuals have pictures hanging in their homes or decorating their tables in various rooms, a picture frame is a wedding favor that can be put to good use.
____ Select your baker, then choose your cake, and groom's cake
Wedding cakes can be shaped in round, square or rectangular layers, whimsical asymmetrical forms, and several other configurations. It can be Personal touches given to your cake with decorations including fresh flowers, petals and greenery, ribbons, candles, fruit, and even swatches of cloth. Cake stands can hold each of the layers of your cake separately or in a traditional tiered fashion.


____ Review your contracts with all of your vendors and service providers
Venues have relationships with various vendors, and they usually will provide you with a preferred vendor list. Those vendors have provided services numerous times at that particular venue and should be familiar with the on-site setup policies before your event; However, that doesn't necessarily mean that they are the best vendors for you. A venue's preferred vendor list can be a good starting point if you have not hired a wedding consultant or gotten referrals from people you trust. Be aware, though, that a preferred vendor's loyalties will likely be to the venue rather than to you since they receive a steady stream of referral business from them.

2 Months Before Your Wedding ____ Have engagement portraits taken
____ Mail out invitations and announcements
It gives all the guests time to respond, and the bride and her bridal helpers determine the number of guests who will attend and allow them to make the seating arrangements for the reception. If you are going to send invitations to friends who live internationally, it is a good idea to send their invitations at least eight weeks before the event. Those who live out of state should be mailed their invitations at least a week before the others.
____ Arrange and plan your rehearsal dinner
Traditionally, the rehearsal dinner takes place a night or two before the wedding and follows the final wedding rehearsal for the bridal party. The host usually arranges a feast, and the bride and groom are expected to prepare a brief presentation of "thank you" speeches, acknowledgments, groomsmen and bridesmaids gifts, and gifts for the other members of the bridal party. Some couples do not serve dinner at all. Some may serve finger foods; horse devours, cocktails, or desserts.

____ Arrange attendant's parties
Once you have chosen the date you will be married, you will have a lot of work. It includes planning the engagement party. It is essential to make a budget and guest list. Choose and book the engagement party as soon as possible. Ensure you mail invitations early so guests can make the appropriate arrangements to attend the party.

____ Prepare accommodations for out-of-town attendants and guests
It is a good idea to arrange hotel rooms for your guests. Consider their budgets. You may want to book a budget and pricier options so your guests can choose between the two. However, be reasonable; if your guests want to book elsewhere, perhaps they have somewhere particular in mind, then let them do this. Although it may cause a few logistical difficulties, remember that they have made an effort to travel along to watch you get married. You could permanently house them at your home, but you should consider whether you want to have some time on your own as newlyweds before your honeymoon.
____ Consider a hairdresser and makeup artist and book appointments
Start your search for the perfect wedding hairstylist by asking around. Word of mouth is always the best way to get recommendations. Remember that styling hair can be very different than cutting or even coloring it and that other stylists may have other specialties. I once knew a stylist who was a brilliant colorist, very talented at cutting hair, and always current with the latest trends and techniques.

____ Finalize all honeymoon plans
Begin planning for the couple to travel well in advance as you do with your wedding planning as soon as the dates are finalized. Get to the nitty-gritty of the actual planning and booking. Ideally, you should book things roughly six months to a year before travel. It will give you many advantages. First, it will help you avoid the tourist season rush, especially when traveling to the more popular destinations. It will also ensure you get your hotels and tickets for the dates you want before destinations or flights are overfull.

1 Month Left ____ Final wedding dress fitting
____ Final fitting for your wedding attendants
Check the fitting wedding guest numbers
____ Create a calendar of events for the wedding day
Make the wedding ceremony calendar event list
____ Make sure your accessories are in order (rings, pillow, garter, etc.)
Confirm the wedding accessories for the big day.
2 Weeks Remaining ____ Finalize arrangements with the entertainer(s)
____ Provide a list of music you would like played (or not played)
Confirm with a playlist with a music list. Finalize piece during special events such as first dance, dance with dad, etc.

____ Pick up your wedding rings and make sure that the engravings are correct
Make sure your couple's wedding rings have all set.
____ Make sure they fit!
Make sure all have fit.
____ Contact the guests who have not responded to your invitations.
Confirm the guest number who will attend your party.
1 Week To Go! ____ If you can, take the week or part of the week off from work!
____ Make sure your marriage license is in order
Before starting the wedding ceremony, you must obtain a marriage license. The officiant who conducts the wedding will demand the marriage license to be produced at the time of marriage. The permit is nothing but a letter of permission from the state which agrees with your marriage proposal. Therefore, you should be eligible for marriage before you start the wedding ceremony and a marriage license ensures that you qualify for that.

____ Prepare seating arrangements, if necessary
Assigned sitting at your wedding is not mandatory. However, most brides and grooms prefer it but are clueless about all the details they need to consider. If you are looking for the details, you will need to know for preparing your reception, such as deciding who will sit, arranging your seating chart, and informing your guests.
____ Have your wedding ceremony rehearsal
The ideal time to have your rehearsal is the afternoon before your wedding. That way, your entire bridal party will be on hand. In addition, the details will still be fresh in everyone's mind the next day. It will help your wedding ceremony run as smoothly as possible when it is the real thing.
____ Make sure all wedding attire fits properly
This last week, the wedding attire needed to check.
____ Confirm out-of-town guests have transportation and sleeping accommodations
Give me a call to check the transportation company and hotel.
____ Check with your florist and balloonist to make sure they will arrive when scheduled
Hundreds of other types of guest favors exist in different places and at individual parties.

Your Wedding Day!____ Relax, enjoy yourself, and remain calm!
Allow plenty of time for your scheduled hair and makeup appointments
Allow at least 2 hours for dressing
Bring the rings and marriage license
And MOST IMPORTANTLY, take a long deep breath and relax and enjoy your day!
____ If photographs are to be taken before the ceremony, allow plenty of time!
____ Remember to bring the rings and marriage license
____ Seat guests as they arrive
____ The groom's parents should be seated about 5 minutes before the start time
____ Mother of the bride is usually seated last
____ Take a deep breath, don't worry, be happy and smile!
Read More;
---
---
---
---
---
News for Thursday 15 October, 2020
---
View all news for Thursday 15 October, 2020 on one page
---
---
---
Recent News
---
---
---