Monday 09 September, 2019 |
---
8 Great Wedding Ideas You Should to Know (Collection Now)
by Administrator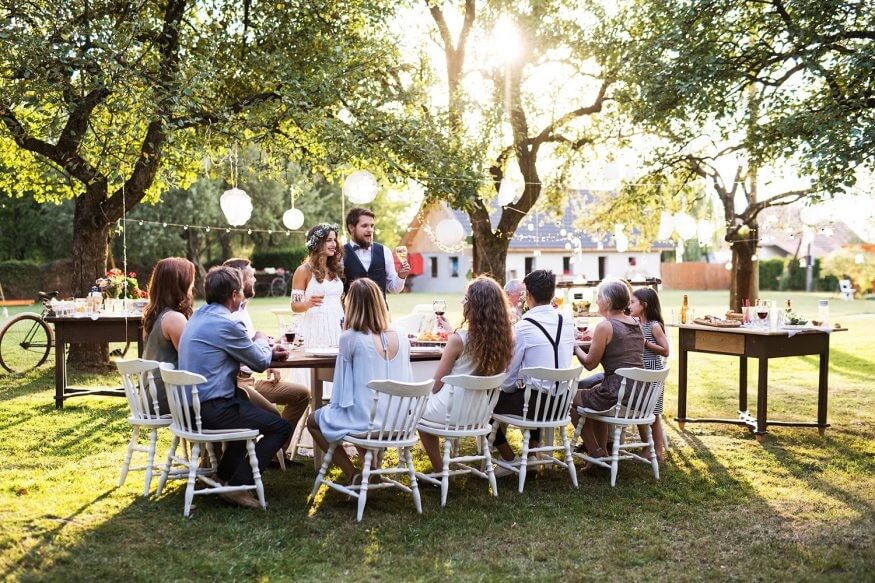 Some couples actually have small families and only want to invite their most intimate friends to their wedding.
Maybe they're looking for small wedding ideas that will help them plan the day with a more casual tone and without thinking about a lot of travel arrangements for themselves or their guests.
Here let's break down one by one;
1).Easy and Cheap Locations
2).Small Wedding Ideas for the Menu
3).Cheap Wedding Reception Entertainment
4).Small Wedding Favors
5).Wedding gift
6).Wedding Budget
1).Easy and Cheap Locations
Backyard weddings or at-home ceremonies with outdoor wedding receptions are very popular depending on where you live, the climate and the season.
While you may not want your guests showing up in shorts and tank tops, backyard weddings are great for planning activities after the ceremony where your guests can change up into more comfortable clothing for the rest of the day.
If you or a family member or close friend don't really have the room to set up and accommodate your guests and a buffet and eating area, check with local parks to see about renting a pavilion and space for an afternoon.
2).Small wedding ideas for the menu
Planning a cheap wedding reception on a small scale is easy if you keep it casual. If you're inviting only your close friends and family, ask each of them to pitch in with a covered dish and have a pot luck buffet menu.
Check with local caterers to see if they offer a lunch or picnic buffet at a lower cost than the traditional "wedding" buffet. Sometimes just adding the word "wedding" to anything will drive up the price.
But if you don't tell the caterer that it's for a wedding and you're just looking for the standard picnic buffet for X amount of people, you can probably save a buck or two ahead on the price.
Or keep it really casual by simply having a backyard barbecue!
3).Cheap wedding reception entertainment
If you're a regular at a local tavern or firehouse, check to see if the house band or regular DJ would do a backyard wedding for a small wedding at a lower cost than a larger wedding.
Cut back on the hours that the contracted band or DJ would play to save some money there. Wedding music is usually contracted for a minimum of four hours but it doesn't hurt to ask if you can negotiate for two or three hours instead and have all of the traditional dances and other events take place during that time frame.

After the band leaves, you can set up your own stereo system for the remaining time when the rest of the guests would get up and dance.
4).Small wedding favors
Small wedding ideas for favors lean a lot toward homemade wedding favors because you're doing everything on a smaller scale and if you give yourself enough time, you can easily make 30 or 50 wedding favors by yourself or with the help of your bridesmaids.
Laminated bookmark wedding favors are popular for smaller weddings because they're as practical as the other small wedding ideas you used to plan out your day. You can customize them more easily than other favor options which make them more unique and individualized than anything you can buy retail.
They're all the perfect complement to any other type of favor you put together, like candies or nuts neatly placed into boxes for wedding favors and make nice little decorations around the tables set up for your guests.
So whether you're planning a small-scale wedding due to financial reasons, the economy or you just like the simplicity, these small wedding ideas should help you springboard more ideas to get the planning in gear for your wedding day.
5).Wedding gift
As a wedding gift, you may choose to give a personalized wedding gift, something that the couple will be able to keep and cherish for many years to come and something that will stay as a permanent reminder of their happy day.
Items such as engraved crystal glassware to monogrammed bathrobes and towels showing both names and the date of the happy occasion will help the wedding day stay fresh in the memory for many years to come.
Personalized wedding gifts show that little extra bit of thought has been taken in the buying of the gift and these offer a totally unique gift for the couple that will be treasured for a long time to come.
Although the department store wedding list offers a handy way to buy the couple a gift that they require sometimes it is sometimes a nicer touch to get the couple something a little different and a little more unique.
A unique wedding gift is something that will stand out from the other gifts that are given at the wedding. These gifts do not have to be overly expensive but need to be different from all of the other gifts.
You can give a jewelry set to each of your bridesmaids as a gift. Jewelry is one of the most traditional gifts that a bride can provide to her bridesmaids, which can be wore on the actual wedding day itself.
Bridesmaids jewelry gifts can be engraved with either names or initials of your attendants to make them more special and sentimental. Personalized bridesmaids jewelry can be purchased online, personalized with various options you desire.
However when choosing jewelry pieces, if you want them to be wore on your wedding day, make sure that they complement the dresses of the bridesmaids. Consider the color and style of their dresses and find most suitable jewelry pieces that will make the girls look complete.
Another popular bridesmaid's gifts are handbags. Leather Handbags are also best to complete the outfit of bridesmaids at your wedding ceremony. Bridesmaids handbags, however, should match the dresses of the bridesmaids just like jewelry.
Remember, any ensemble of your bridesmaids can make or break their look, so you must be careful when choosing items they will going to wear or carry.
Bridesmaids handbags can also be personalized with names or initials of the girls. You can even find elegant clutch purse that are personalized with Swarovski crystals, which are used to print initials onto the purses.
6)Wedding Budget;
1.Budget wedding ideas for the ceremony and reception venues
The venue can a big chunk of your budget so if you want to save money on it, you should start your search early. If you plan to get married in a church, then you can rave in the fact that some churches only ask for donations especially if you are a member of that church.
You can also have the wedding ceremony at someone's garden, on the beach or even on a friend's vineyard. All these are cheaper than renting an expensive hall or hotel.
The key is to scout around for possible free or cheap venues. Be sure to ask friends, family and neighbors for ideas as most would gladly help out in giving you your dream wedding.
2.Budget wedding ideas for the decorations
The decorations can take up a big part of your budget especially if you only have flowers in mind.
To save on venue wedding decorations, you can maximize the surroundings of your chosen venue (the greenery in a farm or vineyard and the scenic view of the beach and sand).
You can even choose to get married in a friend's garden during spring so you have flowers ready. Instead of buying too many flowers, you can spruce up the venue with more candles, ribbons and fabrics.
3.Budget wedding ideas for wedding giveaways
You can always choose to mobilize friends and family members to make cute wedding favors and giveaways for you.
If not, you can go to a crafts store and order them by bulk. Buying from a crafts store is more economical than ordering from a wedding favors store.
---
---
---
---
---
News for Tuesday 03 September, 2019
---
View all news for Tuesday 03 September, 2019 on one page
---
---
---
Recent News
---
---
---