Wednesday 03 July, 2019 |
---
How To Stylist Wedding Hairstyle For Every Bridal(Useful Tips)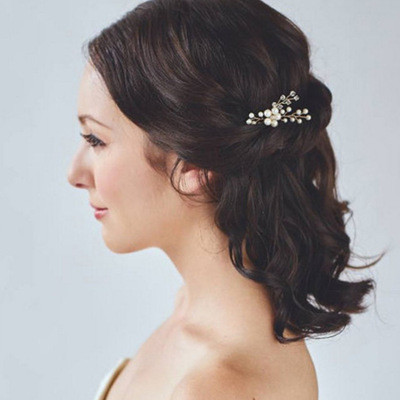 The bride has to be positive this is the right stylist wedding hairstyle for the big day.
So, before chopping off all your hair, make sure to look at several images, celebrity different wedding hairstyles, and make sure that your dress and accessories go with a hairstyle for the big day.
Here now I want to show you how to stylish wedding hairstyle more amazing for every bridal;
Face shapes are important.
For anyone considering a shorter hairstyle, your face has to suit the cut. Women with a more elongated, thinner face typically are the best suited for shorter hairstyles. So, when considering a short stylist wedding hairstyle, women really have to consider this.
A short hairstyle goes perfectly with a longer, taller woman. So, the thin face, long neck, and tall body frame are all ideal with a shorter stylish wedding hairstyle and really give an elegant appearance.
On the other hand, a rounder face and a shorter neck might not suit the shorter style.
Accessorizing your short hairstyle
Remember, sometimes less is more. Women should really remember that the hair should be the big picture. The accessories are just there to accentuate the style, not dominate it.
So, when choosing accessories, going with subtle and smaller bridal headpieces is the way to go.
The shorter the stylist's wedding hairstyle, the smaller the accessories you want to wear. Pins, small ornaments (such as butterfly or flower accent pieces), and soft colors are the better accessories to choose from. Of course, the color of the hair also plays a role in the accessories you choose.
The lighter the hair, the darker the accessories which must be worn, and vice-a-versa for the darker hairstyles.
Medium hairstyle
Medium hair works in a wide array of stylish wedding hairstyles easily. This length falls right around the shoulders and looks beautiful with a loose braid or two woven through the front.
Another very trendy look is to weave in a loosely braided bridal headband. Ashley Simpson is just one celeb who has sported this super sexy look in recent months. Starting with a deep part to one side, grab a small section of hair and begin braiding loosely across the forehead.
Medium-length hair can keep going once you have reached the side of the head opposite from where your braid started and end at the back of the head in a loose chignon for extra panache.
Again, pull out some loose pieces of hair and insert a few fresh flowers or some bling.
Loose updo hairstyle
A modern loose updo secured at the nape of the neck can be unfurled for a romantic cascade of hair for the reception. Choose a hairstyle that will still be pulled back in the front once the back is let down.
It would be a good idea to have one of your bridesmaids come to your hair trial to practice the release, so she knows just which pins to remove.
A bonus is that you won't have to deal with a loose twist or bun springing loose later when dancing and ending up disheveled.
Braid hairstyle
Another hairstyle that can make a pretty transition from formal to relaxed is a braid. This works particularly well for brides with very long hair. First, the stylist braids your hair and pins it up in a loose and chic twist or a more classic bun.
After the ceremony photos are complete, it is simply a matter of removing a few pins and letting the braid down. This look is wonderful for a beach or country wedding.
Long Down Hairstyle
consider the option of wearing your hair down for the ceremony and pulling it back for the reception. Long hair worn smooth and sleek for the ceremony looks very chic. For a great reception look, pull it back into a stylish low ponytail.
Finish it off by wrapping a few pieces of your hair around the elastic band for a polished and sophisticated ponytail that will look fantastic all night long.
With your transformation complete, you will be ready to kick up your heels and really have fun at your wedding reception!
Your hair color is important too.
If you're a natural blonde and want to try a new hair color for your wedding day, don't. If you're considering changing up the color, make sure to do a trial run ahead of time to make sure it goes well. The last thing you need is to ruin your hairstyle because of the wrong color.
When choosing hair color, if your natural color suits you and the style, stay with it. Why change something that looks great? If you are looking for a new color, make sure to speak to your stylist, get professional opinions, and go from there. Of course, the choice is ultimately up to the bride, but if you are considering a change of color, make sure to plan ahead of time to be sure it works.
About wedding hair accessories option
Today, there are many different hair accessories for brides to choose from, giving you plenty of opportunities to find just the right piece or pieces that will accentuate not only your hairstyle but your dress and other accessories like jewelry as well.
But, with all of these choices available, how can you really know which accessories will work best with the hairstyle you have chosen for your big day, or which one will complement your dress but not overshadow it?
Here are some helpful tips to keep in mind when shopping for your bridal hair accessories so that you'll have one less thing to worry about in preparation for the day.
Bridal hair combs to spice up
These bridal hair combs are available in a variety of shapes, sizes, colors, and designs. You will have field day choosing between them! You can choose combs that complement your dress and the veil.
You can come up with a theme of sorts for all your accessories. For instance, if you are going to wear diamonds, you can choose stone-studded hair combs.
These decorative combs can spruce up any hairstyle. You can place them on the top of your bun, at the side if it is a French bun, and all on the sides too.
You can pick them in any size. Use larger combs for decorating the bun and smaller combs for the sides. Ensure you do not overdo it. Could you keep it simple? You will love the effect that these ornate pieces add to your hairdo.


Conclusion; It is important for you to wisely decide whether to go for hairstyles, short ones or others, to look more stylish on the most important day of your life, i.e., the day of your wedding ceremony!
---
by Administrator
---
---
---
---
News for Monday 01 July, 2019
---
View all news for Monday 01 July, 2019 on one page
---
---
---
Recent News
---
---
---