Monday 16 March, 2020 |
---
Ring Resizing:How To Resize A Engagement Ring
If you are in a committed relationship and are getting close to popping the big question, you are going to need one very valuable piece of information - a ring size.
Level of difficulty in resizing
When choosing wedding rings, it is wise to consider the possibility of resizing in the future.
Some rings are more difficult to modify than others are. The easiest types of ring to resize are the plain wedding bands. If the ring has no additional settings, then the procedure required of the jeweler is rather simple.
Compression or stretching is needed, depending on whether the size must be decreased or increased as described above. If the ring has patterns on the band, the jeweler might be hesitant to resize since the pattern would definitely be distorted.
Rings with settings of precious stones require more time and a jeweler with special skills to resize.
Resizing difficulty in relation to the type of precious metal
The level of difficult of the resizing procedure is also dependent on the type of precious metal used to make the band. Softer metals are easy enough to stretch and compress.
The list of softer metals includes silver, gold, and platinum. Silver is not a popular choice for a wedding band. Most couples choose gold or platinum because of the high value tied to these metals.
Gold and platinum are also heavier when weighed. All of these substances can be repaired, soldered, and resized quite easily, and every jeweler in the world would have the tools to perform resizing.
If, for instance, a ring with a precious stone is to be modified in order to accommodate a new stone that is twice the size of the former, it will still be no trouble for the jeweler if the ring is made with gold, platinum, or silver.
Here are some tips which you can help you measure the ring size accurately.
1. Sleeping = under your control: This is the most recommended way as all are under your control when she is sleeping!
While she is sleeping tightly in the middles of the night, wrap the strap of paper around her finger and put a mark on the overlapped part. Measure the length from the paper. You can bring the measurement to the jewelry shop or online store and they will know the size.
This method works the best if she is deep sleeper or when she is deadly tired on the day.
Anyway, it is not surprising that the actual ring size is much smaller than the paper measurement, as paper cannot be as accurate as the real try. It is advisable that after getting your ring, re-test again while she asleep.
2. Measure from her existing ring: Most of the girls keep accessories and hopefully she keeps ring too. She may once a short time begin the ring, which it's an honest time for you to live the ring size. you'll also peep into her jewelry box and measure it. confirm that the prevailing ring fit well into her annualry on left .
3. Ask her close friends or mother: Ask her closest friends or mother about her ring size, as they might have given her ring as present in the past. If they don't, ask her closest friend to bring her to a shopping mall and try on ring at any booth for fun.
You may also have her mother to show her antique/ new ring and ask her to try on. The closest people of her are always the best person to measure the ring size without her knowing of the real intention!
Testing ring for my mother: If you have no common friend with her, you may want to try this way. Telling her that you want to buy ring for your mother or sister, and you need her opinion.
4.From there you'll know her ring size while she is fitting the ring. Do practice your acting skill in before that as woman is that the most sensitive creature within the earth!
You may attempt to placed on the ring on her finger secretly when she is sleeping soundly within the middle of the night.After all, send back for resizing until the size is correct. Put on slowly and gently, so that your girlfriend is not wakening up by the pre-proposal testing!
Few Tips:
1.Gold, white gold, single color is easy to be resized.
2.Remember to test on the ring finger on her left hand. Most of the time, the size of left and right finger and knuckles may not be the same.
3.Paper sizer is always better than thread. Thread or any elastic measurer can easily be stretched and off by sizes.
4. If you are stuck between two size measurements, go for the larger size as it is easier to reduce the ring size than enlarge it.
When buying rings you should try it on many times and make sure it is comfortable before paying for it.
Then again, the metal might expand or contract a little bit and/or your weight might change in the future, so hopefully you picked up some helpful advice and how to fix a ring that is too loose.
It is up to you to decide which solution fits you better, but make up your mind quick before you lose your ring!
Here show your fashion style of engagement ring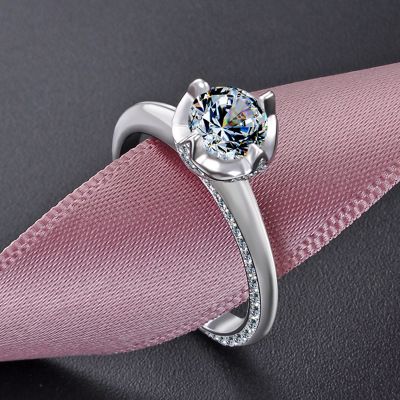 ---
by Administrator
---
---
---
---
News for Tuesday 10 March, 2020
---
View all news for Tuesday 10 March, 2020 on one page
---
---
---
Recent News
---
---
---