Tuesday 20 October, 2020 |
---
List of Bridesmaid Gift Ideas Will Help You(Worth Collection)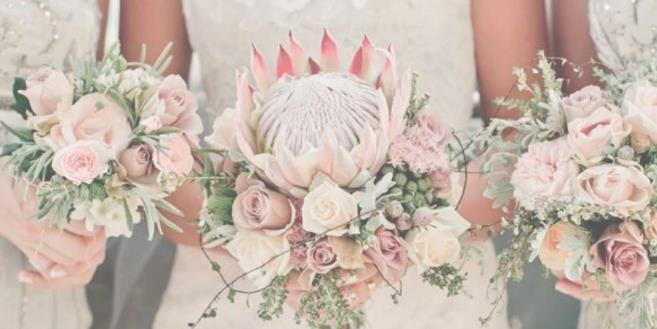 What Are The Best Bridesmaid Gift Ideas for The Wedding Day?
Bridesmaid gift ideas help to plan and carry out the wedding preparation and party.
Here are some bridesmaid gift ideas guidelines that should help you find the perfect bridesmaid gift.
1)Make it personal; the most crucial t the remember when getting bridesmaid gift ideas is to get something unique.
It is easy for unique bridesmaids to gift certificates or cards as a wedding party thanks to your gifts, but it is much more meaningful if you pick something out that you know they will enjoy.
If you know their favorite actor/actress has a new movie on DVD, get it for them with some popcorn and candy.
If they like to go to concerts, give them concert tickets to their favorite group. Personal and thoughtful gifting demonstrates to your bridesmaid that you pay attention to them and their interests.
2)Keep it simple. You do not have to worry about getting something incredibly elaborate for your bridesmaid gift. It is not your time to demonstrate that you are a natural.
Remember, this is your family and friends, and they already know that this is not the case. Jewelry makes a great bridesmaid Personalized gift.
It is personalized to get jewelry and does not require you to cross-stitch pillows for each bridesmaid. A simple bracelet or a pair of earrings is a simple but elegant gift. There is no need to try to be crafty with your bridesmaid gift.
3)It does not have to be expensive. Weddings are expensive; do not let the bridesmaid gift add to your debt. An expensive bridesmaid gift is not expected from your bridesmaids.
You do not need to prove your love to your bridesmaids by getting them something that costs you a lot of money; you need to get them something that shows you care. One idea is to get your bridesmaids some stationary.
A Stationary is not expensive but is something useful, and everyone can use it. Another idea is getting each bridesmaid their favorite flowers. It shows you care without emptying your wallet. If you are tight on cash, always write them a personal thank you note.
Just remember that you do not need to buy the love of your bridesmaids with your gift.
4) Make it tasteful. It is a request from someone who has been a bridesmaid several times. The cards that say "Maybe next time it will be you, but probably not" or "You don't look good in white anyway" get real old quick. I would stay clear from a gag bridesmaid gift unless you know for sure that your bridesmaids will appreciate it.
The bridesmaid gift ideas are part of your wedding planning, and you want them to be tasteful and appropriate to the occasion. The possible idea is to get your bridesmaids your favorite book.
It is something that is but doesn't require much time or money. Also, you can give it a "relaxation kit" with your favorite scented candles and bath salts. Keep things elegant; your wedding is not a time for cheesy party gift ideas.

Here is a list of creative and thoughtful but inexpensive bridesmaid gift ideas to let your bridesmaids know how appreciative you are that they are a part of your most special day.
Jewelry Bridesmaid Gift ideas
Today, bridesmaids continue to show their loyalty to the bride, though the goal is to show their friendship rather than scare away little goblins. In addition to selecting the bridesmaids' gowns, choosing suitable bridesmaid wedding jewelry from jewelry stores near me is also important.
When selecting your bridesmaid's sterling silver bracelets, consider your color palette and gown colors. Then, you will want to find bridesmaid bracelets that coordinate with your color scheme and gowns.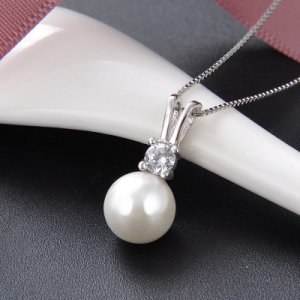 Pearl bridal necklace has been the usual choice of the bride usually for hundreds of years. The sweetness, purity, and luster of pearls have always attracted brides of all ages.

The white sheen of pearl goes perfectly well with the white bridal gown. Diamond and stone necklaces became fashionable time.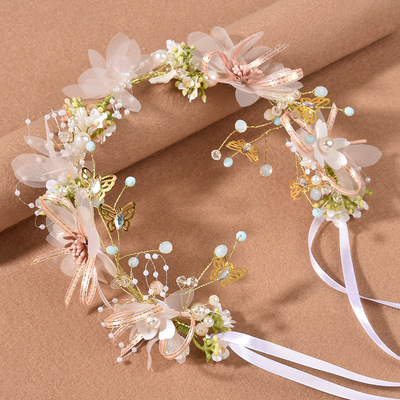 The Flower Design Wedding Bridal Hair Band
Bridesmaid Hair Accessories, Bridesmaid Gift Ideas
-Hair accessories come in many different styles and types. Depending on the bridesmaid's hair length and chosen style, you can use hair sticks, barrettes, and clips.

Glamour Girl's Bridesmaid Gift Ideas
If any of your bridesmaid gift ideas are budding beauty queens, find a cute cosmetic bag that matches the color of their dresses and fill it with plenty of fun goodies. Brushes and comb sets, hair accessories like barrettes and ponytail holders, age-appropriate make-up, and manicure supplies will delight any girl and give her everything to gussy up for the big day.

Craft Bag Bridesmaid Gift Ideas
If your bridesmaid gift ideas are creative, fill a bag or basket chock full of craft supplies. Coloring books, sketch pads, canvas, crayons, magic markers, colored pencils, paint sets, pastels, and paintbrushes will surely be welcomed.
Book Smarts Bridesmaid Gift Ideas
Fill a basket with classic books, bookmarks, night lights, and perfect gift certificates to book stores for a unique gift that lets your bookworm know how much she means to you.
The Sporting Life Bridesmaid Gift Ideas
If your junior bridesmaid is interested in sports, find out what she's into and surprise her with a bag filled with appropriate accessories. For example, aA personalized gym bag filled with items like sweat socks, jogging suits, and miniature soccer balls is sure to please the athletic bridesmaid.
The Great Outdoors Bridesmaid Gift Ideas
If any bridesmaid gift ideas in your wedding party are nature lovers, create a unique gift that incorporates their love of the outdoors. Whether she's a camper, a Girl Scout, or just interested in gardening, you can fill a planter or duffle bag with camping supplies, gardening tools, seed packets, pots, and farmers to create a fun nature-themed gift wedding.
Slumber Party
There's nary a young girl who doesn't love a slumber party. Instead, create a basket filled with pajamas, slippers, hot cocoa, popcorn, games, comfy socks, or a nice sheet set or blanket. She'll be the hit of the next slumber party, and be thankful for your thoughtfulness.
Sweet Tooth Bridesmaid Gift Ideas
Create a basket of delectable goodies that will satisfy anyone's sweet tooth. The possibilities are endless, and if you know the junior bridesmaid well enough, you can always find their favorite candies and build a treat basket around them.
Gift Certificates
If you aren't sure what your bridesmaid's hobbies are or what they may like to do, gift cards are the best way to go. Instead of handing over a plain, boring envelope, put the gift cards in a small basket and fill it with generic items such as candy, lip gloss, pens, pencils, or notepads.

Soap and Bath Products -maybe your bridesmaids don't need to spend time at a spa, but they will always enjoy pampering themselves at their house.
Manicure and Pedicure Bridesmaid Gifts
Treat is often an excellent idea to urge all the women together before or after your day. They will also enjoy this pampering gift while making the foremost of the standard time and opportunity you've provided them.
Spa Gift Certificates -if you think they're going to, why not give them spa gift certificates, leading them to travel to a pleasant, relaxing spa. Encourage your bridesmaids to use their certificate the day before your best wedding parties to start an exquisite preparation.

Photo Album Bridesmaid Gifts -Leave these empty or add a couple of photos of your bridesmaids; they still make great bridal gifts personalized. Confirm that if you see some photographs in each album, you'll save empty pages for the women to fill in their favorite pictures.
Picture frames are another popular choice, making sentimental bridal party gifts for your bridesmaids when engraved. You'll leave the frames empty or insert a nice photo of every one of your bridesmaids within the picture frames.
Bags of Goodies are often crammed with anything that the women will appreciate, like lotion and perfume, soap and bath products, shirts, cosmetic supplies, edible treats like chocolates, etc.


Personalized Bridesmaid Gift Picture Frame: Remember the good times with your good friends in a stylish and beautiful picture frame. Unlike other picture frames, a customized structure allows you to add a personal and memorable touch. Once you place your favorite photograph featuring your bridesmaids, you can have the edge inscribed with their names or a unique or essential phrase to your friendship. A personalized bridesmaid gift picture frame is an affordable way to say thanks.
Organic Tote Bag Bridesmaid Gifts: What girl doesn't like to shop? You can be thrifty, stylish, and green with an organic, environmentally friendly carrying bag. With an organic tote bag, you can have the initials of your bridesmaids stitched directly onto the pocket flap of the bag itself. And, if you want to create an even stronger personal touch, you can fill the tote bag with gifts, beauty items, or other goodies that you know will bring smiles to your bridesmaid's faces.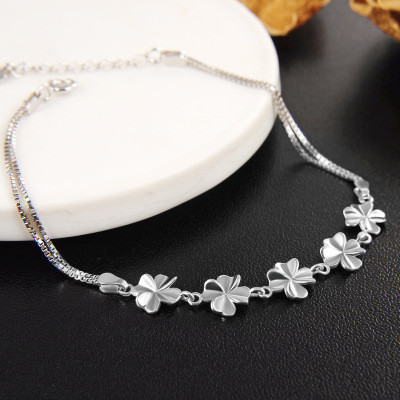 Four-leaf Cover of Friendship Bracelet: If you've been friends with your bridesmaid gift ideas since you were little girls, you've made a friendship bracelet or two. So, why not give them something new by utilizing an old, tried, tested and true idea? This style bracelet is adorned with sparkling and breathtaking freshwater. However, even though they look like a million bucks, they're affordable. You can also engrave your bridesmaid's initials into each bracelet to make it her own.
Cowgirl Pub Saloon Sign: If your bridesmaids also happen to be party girls or cowgirls at heart, an old-fashioned pub saloon sign might be the ticket. A stylish and unique gift idea that looks like it came straight from the old west itself. You can have the first and last name of your bridesmaids etched directly into the sign itself to give it that authentic "made especially specifically for her" appearance.
Your Personalized Cosmetic Bag. What else can make your bridesmaids more beautifully ready than personalized cosmetic bags? This bridesmaid gift can be presented at your bridal shower or after your wedding day. In addition, aA few personalized cosmetic bag choices such as Personalized Bridesmaid Jewelry & Cosmetic Case, Diana Bridesmaid Polka Dot Cosmetic Case, and Bridesmaid's Waffle Cosmetic Bag make great gift suggestions for your attendants.
Your Personalized Compact Mirrors. Compact mirrors are great keepsakes your bridesmaids will surely appreciate and enjoy. Choose engraved compact mirrors that let you put a particular thought on that unique wedding gift. For example, you may consider Engravable Bridesmaid's Compact Mirror, Kaylee Silver Round Compact Mirror, Slim Round Ladies Compact Mirror, Butterfly Compact Mirror for Bridesmaids, and Engravable Silver Heart Shaped Compact Mirror.
Your Personalized Spa Apparel. A bachelorette party at the spa? Let your bridesmaids feel a more sense of comfort by presenting personalized spa apparel such as towels, bathrobes, and slippers. You may consider these choices as wedding gift ideas: Personalized Luxury Spa Robe, Bridesmaid's Personalized Spa Slippers, Bridesmaid's Waffle Weave Kimono Bath Robe, Bridesmaid Waffle Weave Body Wrap, Monogram Bridesmaid Terry Cloth Slippers, and adjustable terry velour body wrap.

Girls Night Outlet, your bridesmaids enjoy an evening bar of hopping as you're all expecting that big day! It is often really a fun idea to urge bonded together with your bridesmaid and be a touch wild before you exit from your single status.
Read More;
18 Useful Tips for Your Give Wedding Gifts For Parents(Great Ideas)
20 Unique Engagement Gift Ideas For Couples
Meaningful Anniversary Gifts List by Year for Her
The Best Wedding Anniversary Gift Ideas For Lover Wife(Keep Watching)
---
by Administrator
---
---
---
32 Thoughtful Inexpensive Birthday Gifts for Mom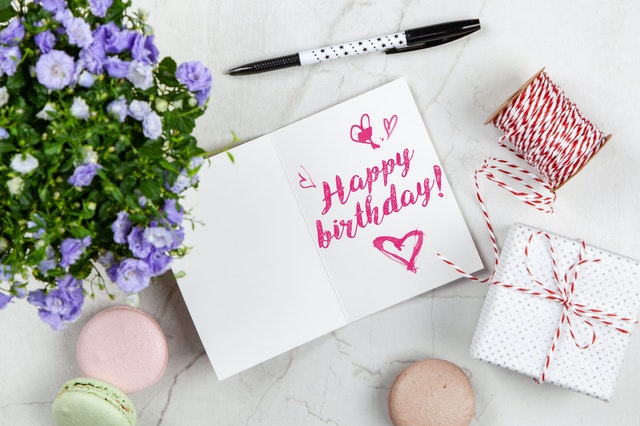 What Are the Best Birthday Gifts for Mom?
Birthday gifts for moms are indeed challenging at times; however, there are times when you do not have enough budget to buy one.
So Here Are the Ideas That I'm Talking About:
1. See what the items your mom needs - it should get on top of your list to shop for what your mom needs. It could be tricky and require you to be more observant so pay close attention. You should see if your Mom needs new shoes, bags, cooking tools, or even a replacement watch to exchange for her old one. Sometimes you'll hear your Mom, "oh, this watch is prepared to retire," "I think I want new pair of shoes," or there are times wherein you do not get to hear it, but you'll notice it. Once you find this information, you'll be ready to give one among the simplest, if not the most straightforward, gift ideas for Mom.
2. Consider her hobbies and interests - You'll be in the right direction if you think about the hobbies and interests of your Mom. for instance, your Mom is into cooking. It might be ideal if you'll consider birthday gifts for her related to cooking. You'll buy her kitchenware, some cookbooks or kitchen appliances. Shopping for unusual Mother's Day gifts associated with your Mom's interests and hobbies is adequate because she will like them regardless.
3. Make it personalized - If you're afraid you might buy a present your Mom already has, then why not create customized Gift ideas for women's items. It is often a sure way that you will give unique and best birthday Gifts for Mom. Providing a personalized gift item will make your Mom feel more special.
Here is a list of Thoughtful, Inexpensive Birthday Gifts for Mom

1.) A Nice Surprise: Birthday Gifts for Mom should be the one day she receives a surprise. Start the day by surprising her with breakfast and coffee in bed. Flowers are sure to put a smile on her face. If you have difficulty expressing adoration, appreciation, gratitude, and love, Amazing Mothers day gifts your Mom with an exquisite bouquet and a lovely gift card. Prepare her favorite lunch. Plan something special for the evening. Having friends and family dinner at a local restaurant is a great way to spend the evening.
2.) Give Her a Break: Since it's her birthday, she has every right to get a break from her household duties. Get creative and design tickets or coupons on your computer to do specific chores around the house. It is a unique and thoughtful birthday gift because you will do all your Mom's tasks. Let her know that she cannot do any work on her birthday.
3.) A Gift Card to Her Favorite Store: She might also enjoy receiving a gift card from one of her favorite stores in town or online. This way, she can buy something she's had her eye on but didn't want to spend the money on herself.
4.) Jewelry: Jewelry gifts for moms can also be great birthday Gifts for Moms. Mothers love anything from rings to earrings to beautiful pins. Heart necklaces are a good choice or perhaps a gorgeous locket. Charm bracelets could be a charming option because every charm you choose will show how well you know and appreciate her. Celebrate a birthday milestone by personalizing the gift with a color birthstone or engraving. Consider a lovely trinket box if your mother's jewelry collection is already complete.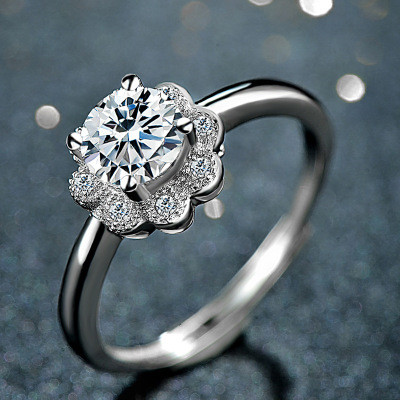 White Cubic Zirconia Solitaire Sterling Silver Ring for Woman
5.)Silver Ring-These rings have only been popular in previous decades. They're almost like thoughtful gifts and worn as Birthday Gifts for Mom. They will be worn by anyone of any age, although teenagers are likelier to wear them. These sorts of rings symbolize chastity.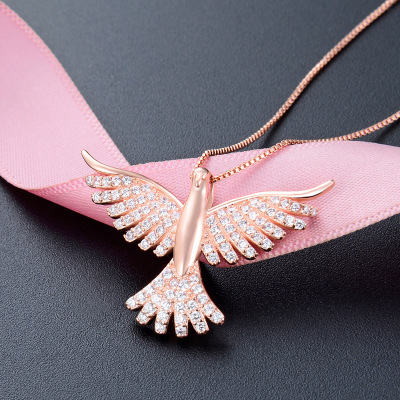 The Angle Design of 925 Sterling Silver Necklace

6.)Necklace-These are the foremost everyday charm necklaces, usually made of gold or silver. Others are made of other metals but crammed with gold or another metal. When buying the sterling silver necklace as the best gift for Mom, you would like to consider the varied terms utilized in describing them.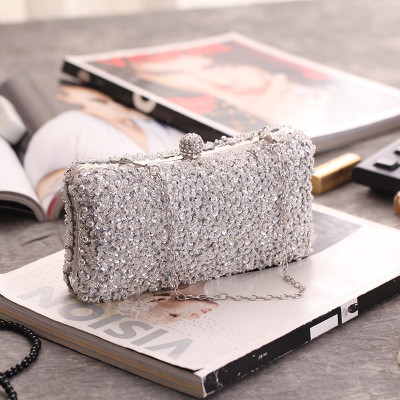 The Lace Design Evening Clutch Purse
7.)Designer Bags
These are unique gift handbags that are also referred to as carrying bags. These are wont to hold numerous belongings that are too many or overlarge for handbags. They're often seen taken by college students, businesswomen, and people who are always on the go. Tote bags aren't only very fashionable but casual and practical at the equivalent time. Women often feel comfortable using totes during hangouts.
8.)Watch - Most mothers wear a watch to monitor when they eat breakfast, lunch, dinner, and when their husbands and kids go home. Therefore, if you notice that your Mom's watch is already old, why don't you give her a new one for her birthday?
9.)Eyeglasses - Does your Mom wear eyeglasses? There are lots of stylish-looking eyeglasses that would be perfect for your Mom. Look for the specific style that is perfect for her, and then ask her to go with you to the optical shop to measure the accurate grade of her eyes.
10.) Kitchen Appliances - Another favorite hobby for most moms is cooking. It would be a great idea to give unique gifts to women new machines or kitchen tools that they could use for their cooking.
11.) Treadmill - Is your Mom trying to lose weight? Well, a treadmill is a perfect present for her birthday gift idea. She can burn calories and eventually lose weight by running on the treadmill.
The best thing about the treadmill is that your Mom will no longer need to go out to run or exercise because she can already do it at home while watching her favorite television show.
12.) Coffeemaker -It would be great to consider giving coffeemakers as birthday Gifts for Moms who have workaholics mo and will keep them awake to finish their work.
13.) Book -It is also a great idea to buy a book for your dearest mother. Reading is a fun hobby so choose a book by her favorite author or a genre she loves.
14.) Perfume - You could also buy a great gift perfume for her.
15.) iPhone Case - Is your Mom feeling too fond of her iPhone? Then she would surely appreciate some iPhone cases as birthday presents.
16.) Massage Chair - You could also give your Mom a massage chair so she can quickly access a great Mom gift giving.
17.) Pillowcases and Bedsheets - Sleep is a luxury for most busy people. If your Mom is one of Mother's day gifts personalized for all, it would be great to give her comfortable pillowcases and bedsheets to better her sleep.
18.) Spa Unique Gift Certificate: This gift will make Mom feel special - a day at the spa. She will get to choose a day to be pampered, rejuvenate her body, energize her mind and lift her spirits. Most spa gift certificates may be used toward treatments, including facials, massages, manicures, pedicures, waxing, and body wraps.
19.) Gym Membership: What better way to encourage Mom to stay fit and healthy than by purchasing a gym membership. Most gyms provide state-of-the-art- equipment and facilities, even personal trainers, to help her stay motivated to achieve her fitness goals.
20.) Wireless e-Readers: If one of your Mom's Personalized gifts for all to do is curl up with a good book gift for her, the Amazon Kindle or the Kobo wireless e-reader from Borders are perfect gift ideas for her. These wireless e-book readers enable users to download, browse, and read books, magazines, and newspapers. E-heading devices have become an ever more popular way to read electronically. They can carry thousands of e-books and are lightweight, sleek, and stylish—a modern-day alternative to textbooks.
21.)Mash-up CDs - Don't you love mashing up songs until you have a CD full of your unique gift ideas. Well, this isn't the only perfect Unique birthday gift for her. You should develop songs with special meanings - pieces that will tell her how much you love her. You could also include her favorite songs - even if that means old songs. Indeed, she will love the idea, and you could expect her to listen to it repeatedly. If your Mom is techie enough, you could do this idea on her iPad, iPhone or iPod.
22.)Cook A Meal For Her -What's more straightforward than cooking a meal for your Mom to express how much you appreciate her, especially on her birthday? This perfect gift for Mom might not be simple for some people who do not know how to cook. However, given your situation, preparing the meal for your Mom would mean extra effort from you. Thus, your Mom will feel more special and loved. Nevertheless, whether you know how to cook, this idea is perfect to greet your Mom with a happy birthday.
23.)Make A Personalized Birthday Card - When was the last time you made a greeting card birthday gift idea for your Mom? Let me guess when you were in kindergarten? Or probably during your 3rd grade? Well, you cannot hide the fact that it was a long time ago, so this coming birthday of your mommy, it would be great to make a perfect gift for Mom. You do not have to make it look flawless or anything for as long as you do it with all your heart. There is no doubt that she will love it.
24.)Graffiti Bags-Graffiti bags are another birthday gift for Mom that will be customized. Still, instead of adding an image or design, you'll pick one or two lines of text that will be converted into a graffiti-style font and then printed during a choice of color on the bag's surface. StAre you stuck for something to shop for your wife, girlfriend, or maybe your Mum? Then graffiti bags are the right choice.
25.)Photo Calendar-Choose an image and a caption for every one of the monthly pages of a personalized calendar, then design the front cover with another picture and a title; that's complete of 13 of the recipient's favorite photos, at least one single great-looking, inexpensive present. Photo calendars make ideal birthday gifts for ladies, and you'll even customize the order of the photographs and choose which month the calendar should start and end.
26.)Photo Books And Albums- Another good way to highlight various photos is during a photo album. While albums are used almost as long as pictures were taken, they need to evolve into better-looking and personalized items. Choose an image for the front cover and enjoy a customized display tin. a photo book is even better because you'll have the photographs printed directly onto the book's pages while also personalizing the duvet.
27.)Photo Cushions-Why does not have an image or selection of images printed onto a comfortable and safe cushion? Ideal for the horse lover and excellent for any woman in your life - personalize it with any picture or photo, then choose a color for the back; alternatively. You'll prefer to have another or an equivalent image printed on the rear instead for an even more significant effect.
28.)Photo Blankets And Duvet Covers- Many other birthday gifts for Mom will be personalized with your choice of photo or photos. Blankets and duvet covers are just two more options, while wallpaper, folding screens, and even shower curtains make excellent additions to the house as beautiful, heartfelt, personalized gifts. Also, like cushions, you'll personalize photo cubes in the same way - a cube of firm cushion foam is roofed with comfortable cushion fabric that has been personalized with up to six images of your choice.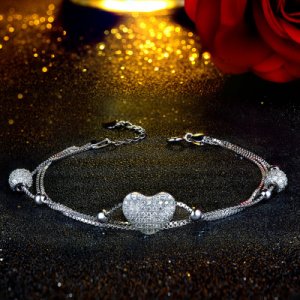 Heart Design 925 Sterling Silver Bracelet

29.) Silver Bracelets Are Charm Bracelets Made From Alloy. Like a daily charm bracelet, you'll add multiple charms to those. Consider creating a themed bracelet if you would like to feature quite one charm Gift idea. Perhaps photos from Mom's birthday or use photos of every kid and grandkid.
30.) Photo Throws are great for the winter season and keep Mom warm. They're also good for warming her heart. She'll surely get the fuzzies everywhere when thinking of her family. Photo throws are available in two different variations, single photo or multi-photo. The multi-photo option is analogous to a quilt and would be an excellent keepsake to pass to future generations.
31). Photo Keepsake Boxes Often Want To Hold Mom's keys, Jewelry, or other items sound. Photos of the whole family are good options to use for these.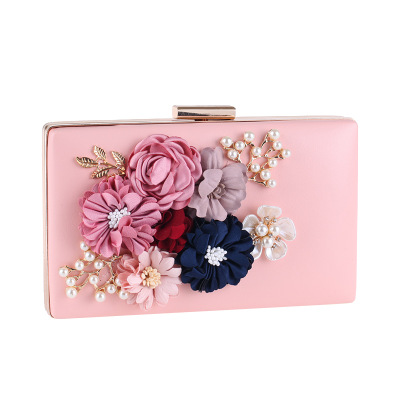 Good Quality of Woman Party Clutches Bag
32.) Flower Purses are available in various varieties for any occasion. Some bags leave multiple accessories to be used, while others only allow one picture.
Read More:
How to Choose Birthday Gift for Wife(Meaningful Ideas )
---
by Administrator
---
---
---
List Of Unique Birthday Gifts For Her(Good Ideas)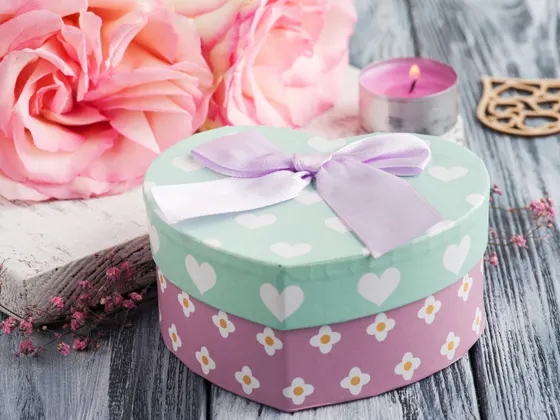 How do you give the best birthday gifts to her?
A personalized birthday gift for her is one of the simplest ways to let her know., thinking about what sort of birthday presents for her.
Here show you the lists of birthday gifts for her.
Cheap perfume. It screams, "I did not have the time to seem for a birthday present, so this is often all I could consider ." If you purchase shoddy perfume as a fun birthday gift, she might feel obliged to use it. Choosing scents may be a very personal decision. So could you leave it to her?
Perfect birthday gifts for her, maybe a mother birthstone ring where all the birthstones represent her children because of the ring's centerpiece. Besides Mother's Day presents, birthstone jewelry is also perfect for Valentine's Day, Thanksgiving, anniversaries, wedding gifts, and other essential occasions or holidays.
Cash. It is often perhaps among the most impersonal, thoughtless birthday gifts for her. If you have been with your beloved long enough to call her your girlfriend or wifey, you should know what she likes. Giving cash is nearly as good as telling her you could not be bothered to urge her.
Clothing that does not fit. NEWS FLASH: if you purchase something too big, she might get the impression you think she must reduce. If you pare buying find gifts too small, she'll feel fat because she can't fit into them. Clothes don't - and I repeat - don't make impressive beauty gift ideas for her, not just for the reasons above but also because she'll feel compelled to wear something she hates, simply because you purchased it for her.
Kitchen appliances and cleaning equipment. A toaster doesn't even rank as a birthday present for her! And as for mops and vacuum cleaners, don't even go there. What might be less romantic? So, regardless of how good the deals are at the supermarket or kitchen store, I prefer to buy something more personal and romantic.
Jewelry. Nothing can ever beat the customary jewelry birthday gifts. It makes no difference in the percentage of jewels, rubies, necklaces, or bracelets they have; a jewelry gift is usually considered a special gift. So many ladies today, jewelry is an excellent gift idea for any occasion. Still, it's usually the locating and selecting the foremost appropriate one from jewelry stores near me. Then, using some time wisely to see each sort of jewelry carefully, you'll seek out the correct item to offer as a present.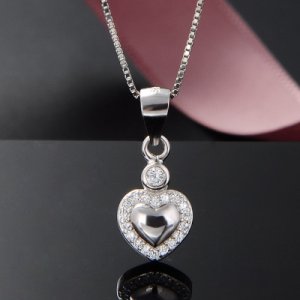 Necklace Styles. To mom, Give some thought to the necklace's design and choose one which will be the foremost flattering. For example, a younger woman might appreciate a choker style that pulls attention to her face and neck. However, an older woman might appreciate a Y-drop necklace that draws attention far away from the aging skin on the neck and face. Choke and drop necklaces are often romantic or contemporary, counting on the planning. For example, if choosing a drop necklace, ensure an extender permits the chain to be worn at many lengths. For example, a silver necklace may be a wonderful 30th birthday present for a lady, especially if it combines a classy, youthful look with classic styling in crystals and pearls.
Bracelets in the Modern World. In the modern era, jewelry artisans began using innovative techniques and technologies to create unique bracelets that made birthday gifts for her in all countries and cultures.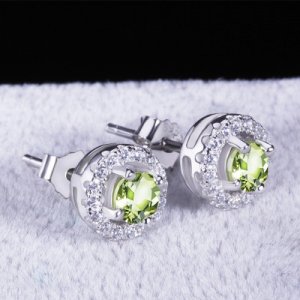 Birthstone Sterling Silver Earrings

Stud earrings-Every woman needs a pair of diamond stud earrings in her jewelry box. Diamond studs can complement any outfit for a chic and fabulous look which is a great birthday gift for her.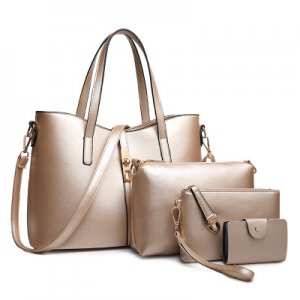 Fashion Lady Design Handbag Set

Leather handbag-come in vast choices of funny shapes and patterns and birthday gifts for her. Engage her love for handbags with a bag with eyeball buttons, animal prints, or one made out of candy wrappers or patched-up cloth materials.
Pashmina. It may be a name used for one of the best cashmere wools. These are very soft to feel and add warmth and coziness. It's an ideal accessory for any occasion. Pashmina sometimes stole it as the most preferred female additionally within the market.
These Scarves. It comes in various blends. These scarves are comfortable and practical for those chilly office buildings or restaurants. Moreover, they appear so graceful. They also are available in multiple sizes. The perfect and most appreciated size is 72" x 28" because it is often used as a shawl. They're available in several price ranges. The worth can range from $20 up to $40.
Flowers And Candies. Nothing can ever beat flowers and candies. All occasions could use this sort of birthday gift for her. But, of course, arising with a gorgeous bouquet is often tricky if you do not know what quite a design to look out for, but it's doubt the neatest thing you can do. You'll also give just a traditional gift of flowers with a straightforward method. The candies should be very different, especially if you want a gift.
Mugs. Giving a face with a heartfelt message is often the perfect gift. Cups are ideal for offering, and each woman out there's undoubtedly getting to enjoy a nice mug with the most straightforward set of personalized words written on the face. You can come up with many designs, and typically you'll come up with ideas by thinking of the special bond you've got together.

Camera. A camera or a camcorder is often an excellent gift to offer. Usually, digital cameras are great for those ladies who are considerably into gadgets and just like the latest devices. Try rummaging through all the various sorts of digital cameras available to ascertain what's best.
Clothing. If there was one thing that girls love buying, it might undoubtedly be the foremost up-to-date clothing. The reality is that blouses, pants, jackets, and jeans are great gift ideas for her. It's all about locating something nice and stylish that you know she goes to like wearing again and again.
Chocolates. Chocolates are like flowers. Everyone gives them unique gift ideas, and everybody expects them. So give your girlfriend a box to form her happy. Just remember to shop for the brand. She loves to enjoy it to the height. Chocolates make romantic and sexy gifts for girlfriends. It's one of the top favorite gifts for birthdays.
Lingerie. A set of sexy and delightful romantic gifts lingerie can take your girl's breath away, and who knows what awaits you that night! Buy lingerie for your girl to gift on her birthday, and this may revive your romance and attract your girl more towards you. Just look out to shop for brands she wears and choose from the store. Remember to shop for her size garments and select her favorite colors. See how happy she gets!
Favorite dessert-Whip up her favorite dessert. What does she enjoy eating? Cherry pie, chocolate chip cookies, angel food cake with strawberries on top? Before beginning this project, find a simple recipe and confirm you've got the proper ingredients.
Frame a photograph, ph, or some art. does one have a pleasant picture of the family or an art design you've created. How about putting it in a nice frame and giving it to her.
Give her personalized coupons. Create and print off a sheet of coupons for chores you'll do for her—things like weeding her garden, cleaning her car, or the shower.
Fill a present basket. Find a basket t thoughtful gifts or other containers and fill it with items like - a favorite scented candle, lotion, candy, or slippers for around the house.
Plan and cook a meal that has all her favorite foods. After dinner, insist that she stay out of the kitchen while you pack up.
Clean her house. For moms, While she's out, surprises her by cleaning the house from top to bottom. Make an inventory of all the chores you probably did and put a check beside them (to show that they have been completed). Put the list during a greeting card and write something like, "Mom, I cleaned the house for your birthday, so you'll have some free time. Enjoy!"It is one of the best gifts
Decorate a notebook binder. Does your mom have a hobby or other interests? Perhaps she likes to gather recipes or is a passionate bird watcher. Find photos or different designs that reflect her passion and decorate the binder with them. She will use the binder to gather information about her hobby.
Write a poem for her. It doesn't need to rhyme. Be honest and write things you admire or appreciate e gift ideas for mom. You'll read it to her at the dining table or print it out on a computer and frame it for her.

Gift of Pampering. A foot massager is one of the most straightforward birthday gift ideas for ladies that they'll appreciate. It may allow women to offer themselves a foot massage anytime they desire. Another great idea is to urge her to a foot bath, allowing her to pamper her feet reception any time she wants. Other birthday present ideas include purchasing a current certificate for a spa for any spa service.
Quality Bags. Women can never have enough bags of personalized gifts; they will appreciate this perfect gift for mom and use the bag frequently and not let it languish within the back of her closet. Various handbags will be purchased at multiples prices from designers to others. Jessica Simpson or Big Buddha brands are excellent for cheaper bags that are trendy and fabulous. Other high-quality but not ridiculously expensive designer bags include Linea Pelle, Rebecca Minkoff, etc.
Bath Sets. These are usually inexpensive while still making some of her most straightforward birthday gifts. Philosophy produces many fabulous sets, including one bath explicitly set to celebrate a birthday. Another favorite is that the holiday collection bath set smells lovely and is inexpensive and one of the most straightforward birthday gifts.
Read More;
20 Unique Engagement Gift Ideas For Couples
List of Bridesmaid Gift Ideas Will Help You(Worth Collection)
Don't Miss 27 Amazing Gifts for 20th Anniversary Day
---
by Administrator
---
---
---
---
News for Monday 19 October, 2020
---
View all news for Monday 19 October, 2020 on one page
---
---
---
Recent News
---
---
---