Details
Product Description: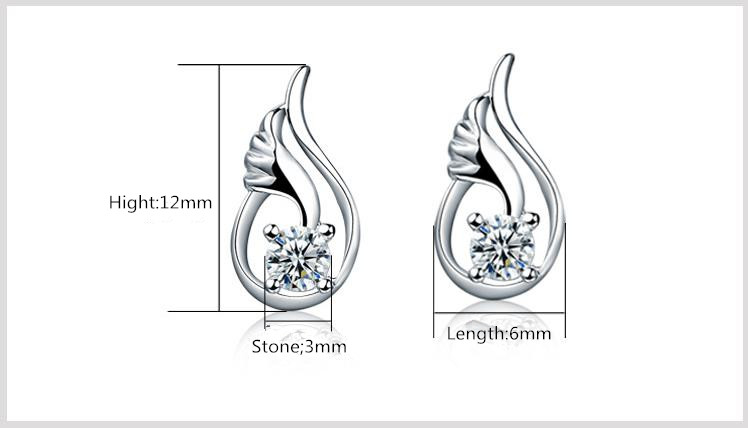 Round stud earrings featuring 3mm created white sapphire stones with halos of white sapphires set in 925 sterling silver.

Created White Sapphire is an alternative to Diamond as the April birthstone.

A thoughtful jewelry gift that will be cherished for years to come.

Hand-crafted in pure .925 Sterling Silver; Rhodium plating added to enhance shine and durability.

These silver pieces are built for longevity. This piece features metal plating, flashing, or electrocoating for a more lustrous appearance, but it can wear off with long-term or heavy use. To ensure the longevity of your plated items, store your jewelry in a dark, cool, dry place such as a pouch, and avoid rubbing plated items together. Also, avoid exposure to cleaning products and perfume, which can negatively affect your items. Your local jeweler can advise you where to send your jewelry if you want to be replated.
Tags
Reviews
---
Displaying 1 to 4 (of 4 reviews)
I get compliments whenever I wear these. I love them
To date, this is my favorite pair of earrings. They sparkle when light hits them and make a magical sound when I turn my head quickly or brush my fingers through my hair. They will look best on anyone with a long neck, as they are rather long. With the appropriate outfit, they look elegant and sophisticated....
Margarita Hernandez
01/07/2018
Loved this pair of earrings!! They are the right length for me, light and very elegant :) I just wish they had a little rubber stopper in the back as I lost one didn't even realize it until after. But love them so much and since the price went down I bought another pair ;...
Wow. These are absolutely beautiful. I bought one set for myself and another for a family member. In the week+ she's had them, she's worn them every day. We work together, so I can't wear mine. And I'm dying to!!! They are elegant and silver, perfect length...not too short, not too long. They move with your movements, which I love. Now if I can only convince my family member to stop wearing them so I can show of mine, things would be perfect!!...
Displaying 1 to 4 (of 4 reviews)